Fine Grain wins global quality standard ISO 9001 certification
Workplace Communities
|
Press Releases
|
The Fine Grain Way
Posted by
Fine Grain Property
on 21 Apr, 2022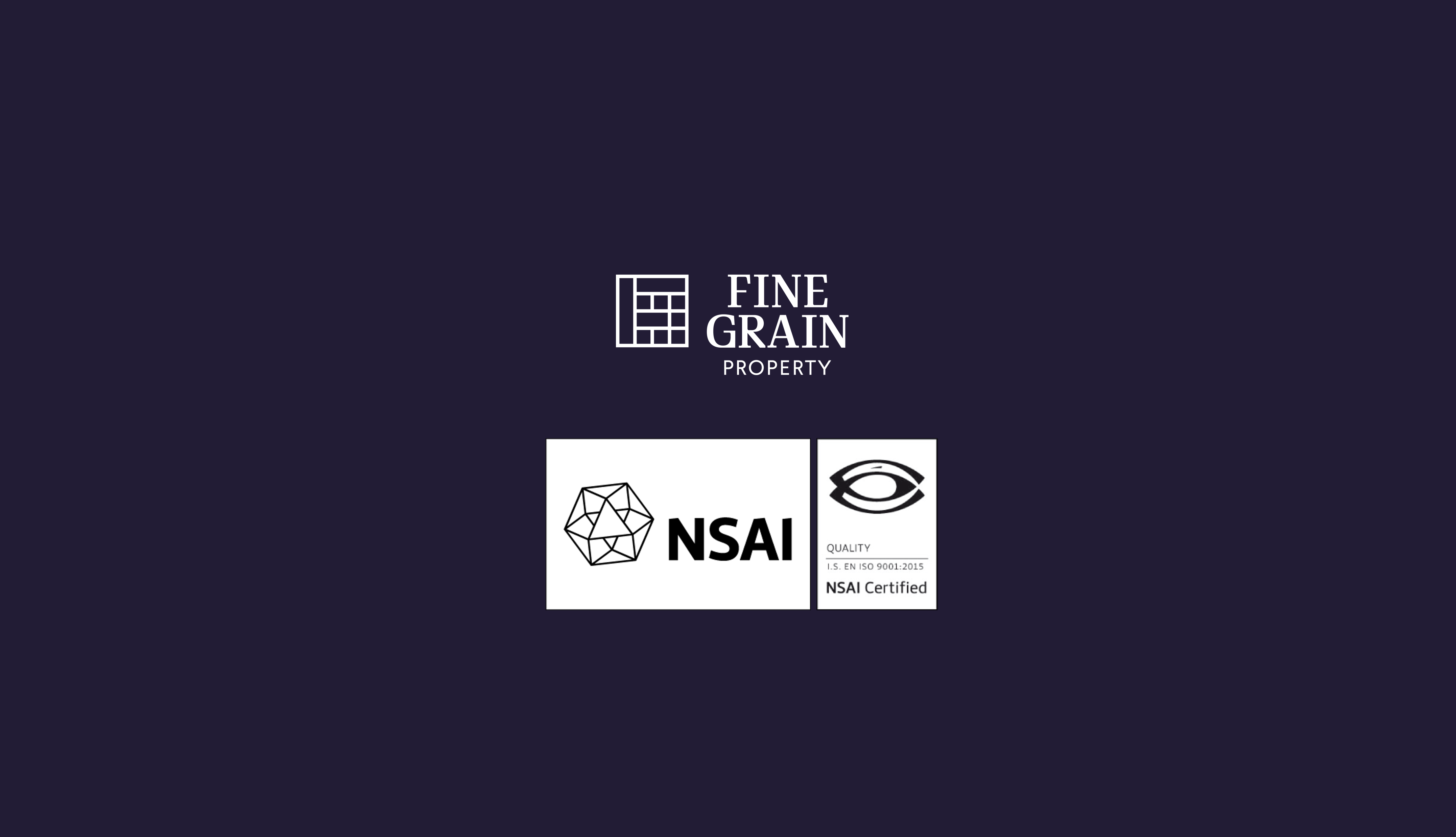 Fine Grain Property is delighted to announce that it has been awarded the world's most widely recognised quality management standard, ISO 9001:2015, by the National Standards Authority of Ireland (NSAI).
The award follows a rigorous audit of Fine Grain's business processes, which are focused on consistently meeting client requirements and enhancing satisfaction. It recognises Fine Grain's commitment to building quality workplace communities in which clients can thrive.
"As a company we've made a promise to facilitate our clients' success by providing them with great places to do business," says Fine Grain Property CEO and founder Colin MacDonald.
"To keep delivering on this promise, it's imperative that we establish the best ways of working and strive to continuously learn and improve the services we provide. ISO 9001:2015 gives us the framework that allows us to do that."
The certification process was overseen by Fine Grain Property Financial Controller Mairead Phelan and Director of Special Projects Nicole Lim.
"By implementing this standard into what we call the 'Fine Grain Way' we are able to streamline our client offering in a quality and controlled manner," says Phelan. "It allows us to align our business objectives with the needs and expectations of our clients, investors, and other stakeholders."

The award will give the company's clients – including some of the world's biggest tech, automotive and life sciences multinationals – further reassurance of its dedication to maintaining consistently high quality as it expands.

MacDonald added: " "These are exciting times for Fine Grain Property as we grow in support of Ireland's extraordinary economic growth. ISO 9001:2015 recognises that we are effectively managing quality, minimising risk and maximising opportunities as we expand.

"I am extremely proud of the team at Fine Grain Property for this achievement. It proves their commitment to ensuring high quality facilities and second-to-none service. We are dedicated to constant improvement and development. Achieving and maintaining ISO 9001:2015 ensures we have the processes and systems in place to facilitate this."